The Magtech Challenge is About to Begin!
Posted by
3amgames
on July 10, 2012, 6:41 p.m.
While Magrunner is set to unleash first-person action puzzle gaming infused with cyberpunk and Lovecraftian lore, Yoshi and Newton enter the Gruckezber Magtech Challenge.

The corporate-sponsored technology competition, however, soon becomes a deadly struggle for survival against the insanity of the Cthulhu Mythos! Please meet the Deep Ones, an ancient evil aquatic race as envisioned by 3 AM Games!

At this point we don't want to spoil the story, but feel free to share your visions of the Deep Ones and their role within the bounds of Magrunner Dark Pulse: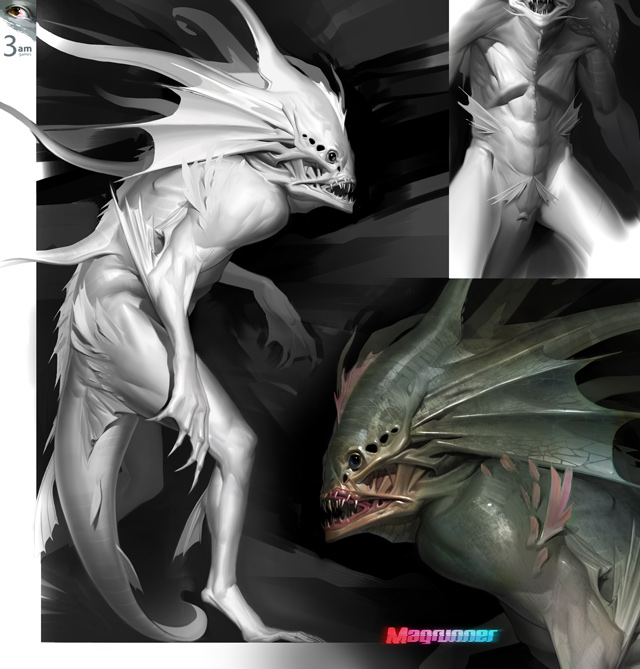 Last, but not least, we've already started working on the rewards for our supporters and backers. Here is the sketch for one of the game's official posters, aka work in progress. Let us know what you think!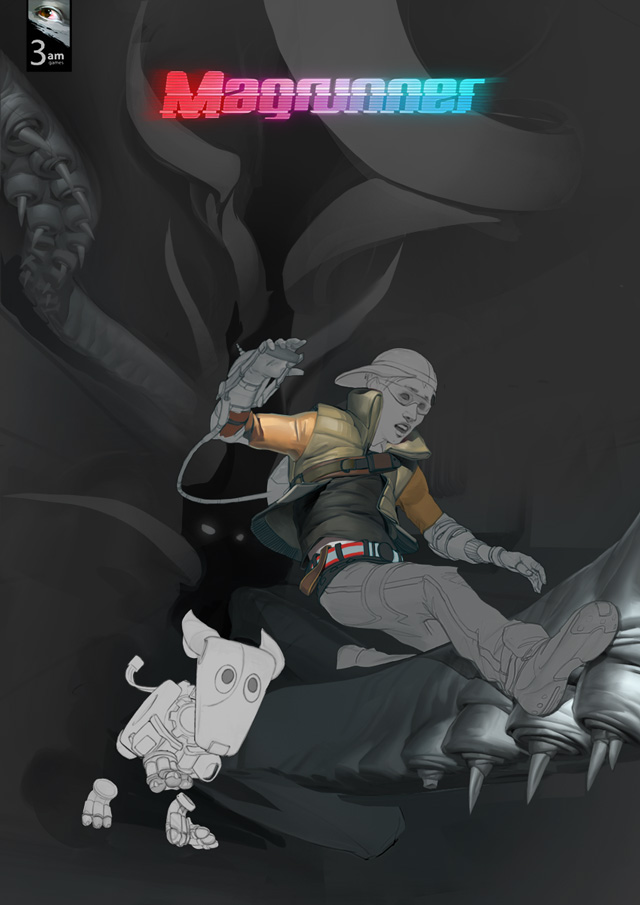 Share your love on Facebook and tweet about Magrunner to your friends and beloved. Please spread the news via emails, word of mouth and more!

Thanks so much for your support <3
This fundraising is finished
For $20 or more
Gruckezber Magtech Edition
Digital game DRM Free & digital manual
Access to crowd-creating tools & polls (VIP Room)
Access to beta version via cloud-based gaming platform
Name in "Thank You" section of the Game credits
For $39 or more
Hastur Edition
Digital Solution Guide
Digital soundtrack
Digital official HD poster of the game
…plus all previous rewards...
For $65 or more
Gamaji Edition
Invite one of your friends to the VIP Room
Message on the wall at one of the game locations: player can say or draw anything to other players, we will put it inside the game
…plus previous rewards...
For $97 or more
Newton Edition
Boxed game DVD & manual
HD promotional episodes & the making of
Magrunner exclusive T-Shirt
Digital Magrunner story book with game art
…plus all previous rewards…
For $129 or more
Yoshi Shout-out Special Edition
The boxed game comes with a special artwork printed and signed by artist
Hall of Fame reward: Backers of the Cthugha Edition will have their own names and avatar photos in a dedicated Hall of Fame and Yoshi will say their name
…plus all previous rewards…
For $385 or more
Missed Call of Cthulhu Edition
Artwork solid PVC 50x50 format glossy, signed by the team;
Exclusve iPhone 4 or 3G case with Nyarlathotep design
…plus all previous rewards…
For $1,283 or more
3AM Special
A 90x130 solid PVC artwork print signed by the development team, plus 3 original sketches/drawings signed by the fiendish artist behind Magrunner's warped monsters and machines!
…plus previous rewards...
For $6,411 or more
Azatoth Mindblast Edition
Vodka-pepper tour to 3AM Games studio in Kiev where you'll spend two days with the development team and see how it's done! By night, party with these twisted minds as they hit the best clubs in town to celebrate!
…plus all previous rewards…
Early Birds
Official Users ♥ it !